Friends, last week was San Francisco Beer Week!!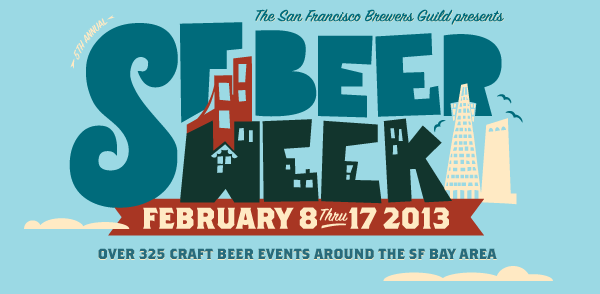 What yeasty, hoppy, malty, ferment-ey wonders were partaken of? Like, sooooo many. If you live here & you like beer, I hope you managed to hit some awesome events, because they were indeed awesome.
In more running-ish news, this is what *actually training* looks like:
It's been a while since my RunningAhead summary page has looked anything even remotely like this. I'm finally starting to feel like an honest-to-gods legit runner again.
Grand Total: 40.6 miles
* 22 easy
* 4.3 threshold / tempo
* 2.3 speed / intervals
* 12 long
Monday 2/11:
Lunch time - Yoga as per usual.
Evening - Karate + strength work (by which I mean some random ab stuff, because we started late, which meant we did sort of self-directed warm-ups, & I only do push-ups when someone makes me). Oh heeeeeey there, long run hangover. :P
Tuesday 2/12:
Lunch time - Strength work. I think I'm getting more efficient at this. I can pack a LOT into 40 minutes, which is as long as I try to stay gone from work.
Evening - 5.3 speed. 1.5 warm up; 1200m @ 5K pace / 1:00 jog; 800m @ 3K pace / 2:00 jog; 1200m @ 5K pace; 1.5 cool down. How do I love being out on the track for some speedy intervals? Let me count the ways. I can tell it's getting close to to track season because come 5:30 there are about a billion teenagers doing high knees & butt kicks on the straightaways.

Took these bad boys out for a test drive...

...which was nothing short of flipping awesome. I think I'm in love.

Also, it is encouraging to notice that just a few weeks ago, the two 1200s were taking a lot out of me, but with this workout, not only did I do the two 1200s, at a faster pace, with an even faster 800 in between, but all three actually felt pretty easy & I finished feeling great. Oh hey there VO2! Nice to see you again!

We topped off the night with three--count 'em, THREE--awesome beer week events. A little Midnight Sun BrewCo action at Amnesia, some rare & exotic Dogfish Head offerings at The Sycamore, & dinner plus a few other tasty things at Southern Pacific Brewing.

Don & I first discovered Midnight Sun by randomly wandering into the brewery when we were in Anchorage a few years ago. We are total beer snobs, and just about everything they had blew us away. They weren't really distributed in the Lower 48 then, so we brought back as much as we had room for. Really everything they make is fantastic, but if you ever get a chance to try their Treat (an imperial chocolate pumpkin porter) you just have to, unless you hate porters or pumpkin. I have had a lot of pumpkin beers that are just too over the top with the pumpkin, but theirs is just about perfect--intense enough to notice, but subtle enough not to overpower the other flavors. GOD I could drink gallons of that stuff.

And Dogfish Head--well, I tend to avoid them because most of what gets distributed of theirs tends to be super hoppy & mostly IPAs, but it turns out that they make a bunch of stuff that they don't really bottle or distribute much that is really, REALLY good & not super hoppy. Things we had that I recommend trying if you ever get the chance include their Bitch's Brew stout, their Imperial Belgian Wheat, & anything from the crazy series they're doing where they chemically analyze beer residue found on ancient drinking & storage vessels & reverse engineer it. Fascinating!

I have to say that we were kind of disappointed by the lack of Fat Tuesday celebrating at the various venues. We were the only ones wearing beads. Where is your Mardi Gras spirit, SF Beer Week???? :P
Wednesday 2/13:
Lunch time - Pilates as per usual.
Afternoon - 4 easy. On the treadmill again; I took it a little faster, which made it easier, & also watched some Batman.
Evening - Karate + easy strength work.
Thursday 2/14:
Lunch time - Strength work. Now that I kind of have a routine going, I find that I get sweatier and also get in & out faster.
Evening - 6 easy. This was one of those runs where, once I hit the turnaround & was heading ever slightly downhill, I just felt like going fast. Huzzah for those runs where you feel like flying, & can barely be bothered to put your feet on the ground every stride. It's been a long, looooong while since I had one of those. :)

Also, you *know* that my gentleman & I totally celebrated St. Valentine's by attending another awesome Beer Week event. It turns out our good friends at City Beer Store in SOMA were hosting the Midnight Sun folks, so this was really a no-brainer. (And btw, if you live in the Bay Area, and you like beer, and you've never been to City Beer before, then oh man. Just go. Go now. And be sure to introduce yourself to Craig & Beth if they happen to be in. They are just the nicest beer nerds you will ever want to meet.)

BEER!!11!1!
Friday 2/15: 7.3 miles. 1.5 warm up; 4 x (1600m @ HM pace / 1:00 jog); 1.5 cool down. As treadmill runs go, I've pretty much decided that tempo / threshold-type ones suck the least. The intervals break up the monotony, but you're not going so fast that the treadmill feels like it's about to fall apart and/or you are one false step away from an unspeakable yet YouTube-worthy tragedy. (I will do speed workouts on a treadmill, but only if I have no other option and the interval distances divide neatly into hundredths of miles. None of this 300m bullshit.)
Saturday 2/16: 6 easy. This was one of the best runs I've had in a while. I felt fast & light-footed & completely without any sort of ache or pain of any kind. It is one thing when I'm hitting 8:35's on an "easy" run because really I'm pushing too fast and too hard & making it into a not-so-easy run, but on this one that pace (and even faster on the way back) felt truly, legitimately easy. I guess that is the sort of thing that happens when you actually do all your workouts (WHAT??) & hit consistent mileage (HUH?!?) for, like, four weeks in a row.
Originally I'd planned to race the 3200m at a Cal Berkeley All-Comers meet, but the more I thought about it, the more I felt like I really want to keep my focus on the marathon & getting in consistent mileage, and it just didn't seem like there was much to be gained from trashing my legs in a short, speedy race I'm not really trained for right now.
Also, we did a home brew walking tour of the Mission:

I want this fridge. Also someone to make me tasty beer to put in it.
It was delicious. I am trying to talk my baker friend E into attempting the cupcakes.
Sunday 2/17: 12 long. A bunch of us got together for a birthday run & brunch to celebrate the lovely Kristin. What a gorgeous day for it!
I always forget how great running with other people is until I do it. A lot of people were excited to do 10 together, so my plan was to arrive early & do 3 on my own beforehand to hit my scheduled 13 for the day. Alas, I was slow getting out of the house so by the time I arrived I only had time for 2. The rest of the miles flew by as we jogged past the ballpark, along the Embarcadero, & then over to Marina Green & back. Even at the end of my peak-est weak since mid-November, I felt fantastic the whole time.

Because mimosas are not optional
Also, Aron taught us how to do this:
Bagel with cream cheese, avocado, cucumber, tomato slice, & lemon pepper.
...which pretty much rocked.
Seriously. It's been a great week.
I will be out of town next weekend (and NOT seeking out a treadmill), which is okay because I'm due for a bit of a cutback anyway. It just means I'll need to be extra-vigilant about getting in my weekday runs.
Hope you had a GREAT President's Day weekend!!